1 Choose elegant fixtures.
A pedestal sink with graceful lines is more attractive than a blocky cabinet vanity. A classic claw-foot tub is like bathroom sculpture. Even enclosed in a deck, the simple lines of the lip have an inherent beauty that surpasses most acrylic versions.
2 Sit in a bathtub before buying it.
Bigger isn't always better. A 60-inch tub is fine for most people. It offers enough room to stretch out and provides a secure foothold, so you don't float into oblivion when the tub is full. Assess the angled back and lip for comfort and neck support –- a tub for two people slants at either end and has taps in the middle. If you only have enough space for a small tub, buy an extra-deep one.
3 Select durable flooring.
Ceramic, marble and stone tiles are all excellent durable and water-resistant choices for a bathroom. Subfloor heating coils will make these hard surfaces warm. Well-sealed hardwood floors offer natural warmth and act as a foil for the other hard, cold surfaces in a bathroom.
4 Hang a stylish mirror.
One beautifully framed mirror over a sink is more attractive than many surfaces covered with mirror. Supplement it with a wall-mounted adjustable makeup mirror, and consider installing a lighted, mirrored shaving niche in your shower stall.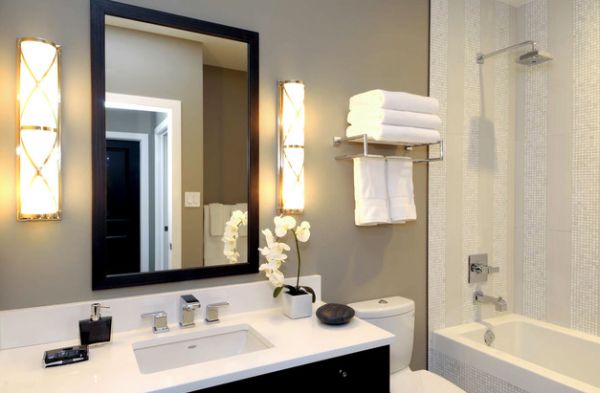 5 Use found space.
Take advantage of space between wall studs by recessing a tall storage cabinet into the wall to maximize vertical storage while saving floor space. The cabinet should have an interior depth of at least three inches and a door flush with the wall.
6 Build a shower area.
Consider building an open-concept shower area that doesn't need a curtain or door and is less confining than a standard shower stall. In addition to well-designed drainage, a ceiling-mounted rain showerhead and/or a high wall-mounted showerhead that splashes less water will keep the area outside the shower drier.

7 Share space for added function.
In homes with back-to-back bathrooms, a shared shower with access doors to each of the bathrooms maximizes limited space. Or turn a closet located next to a bathroom into a small ensuite with access to the neighbouring bath.